Jennifer Aniston and Dennis Quaid Might Join That Jackie Brown Tie-In Switch
This one sounds fun.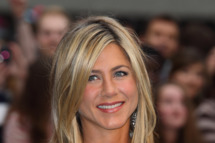 Okay, okay, it's not exactly a prequel to Jackie Brown, but Switch, a tie-in to the Elmore Leonard universe Tarantino adapted into Jackie, is starting to sound solid nonetheless. The film recently landed John Hawkes and Yasiin "Not Mos Def Anymore" Bey as younger versions of Robert De Niro and Samuel L. Jackson, and now Jennifer Aniston and Dennis Quaid are reportedly in the mix as well. Aniston, playing Quaid's wife, would be kidnapped by Hawkes and Bey. "When the lowlife husband sees this as a way to get rid of his wife and refuses to pay the ransom, the kidnappers embrace a new opportunity: teaming with a pissed off bombshell housewife to get all of her husband's money," Deadline writes. Like we said: This one could be fun.