Jessica Chastain Makes Radical Moves to Secure Her Ubiquity
She signs on for a double feature.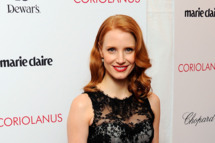 Oscar nominee Jessica Chastain will not be content with merely taking the crown for "most prolific actress" in 2011 and 2012: She has signed on for a new project, likely due next year, that's actually two separate films in one. (That's fine, Jess, but your 2013 output will forever be tagged with a contentious asterisk.) She'll be starring alongside fellow up-and-comer Joel Edgerton in a double feature entitled both The Disappearance of Eleanor Rigby: His and The Disappearance of Eleanor Rigby: Hers (are these Red Shoe Diaries?), which each present a different side of the marriage between a New York City restaurant owner (Edgerton) and his wife (Chastain), who's going back to college. Chastain and Edgerton will both film Kathryn Bigelow's Osama bin Laden thriller first — or, at the very least, these suspiciously busy actors will be sending their secret twins to do it in their stead. We're on to you, secret twins!