Justin Kirk Books NBC Pilot
He'll play a grumpy veterinarian.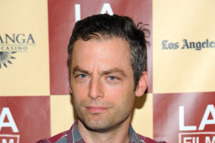 Justin Kirk has booked a comedy pilot on NBC, according to TV Line. He'll play the grouchy veterinarian on Animal Kingdom, a single-camera series from Brian Gatewood and Alex Tanaka (The Sitter). What does this mean for his character on Weeds, which is crawling into its arthritic eighth season this summer? Possibly nothing, depending on shooting schedules. Don't confuse this show with Showtime's Animal Kingdom TV show, which is not a comedy and is instead based on the gritty Australian crime drama from a 2010. Different! Very, very different.