Matthew McConaughey's Killer Joe Gets NC-17 Rating
It featured one of the most disturbing scenes of the Toronto Film Festival.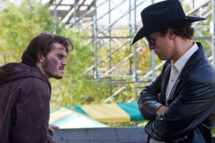 Like Michael Fassbender before him, Matthew McConaughey may suddenly find himself the star of a relatively high-profile NC-17 film. Killer Joe, directed by The Exorcist's William Friedkin, penned by August: Osage County playwright and screenwriter Tracy Letts and starring McConaughey, Gina Gershon, Emile Hirsch, and Juno Temple, got slammed with the rating on Wednesday. Deadline says the film "has been called Tennessee Williams meets Quentin Tarantino," but hot off the Toronto Film Festival last autumn, New York wondered if Killer Joe was "less a comment on misogyny than a misogynist fantasy itself," noting the movie hosted the most disturbing scene of the fest. Read all about it here, or take our word that it's an exceptionally rough juxtaposition of fried chicken and oral sex. Yeah. Sounds like that appeal for an R-rating might not go so smoothly. But hey, at least McConaughey's reputation as an ever-shirtless Lothario might get shaken up.