Maya Rudolph to Host Saturday Night Live
It's her first time.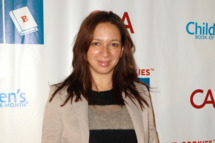 Zooey Deschanel is hosting this weekend's edition of Saturday Night Live, but for the following installment, NBC is staying in house. The network announced today that Up All Night's Maya Rudolph will host the February 18 show, which is the first time the Saturday Night Live alumna has had that gig; Sleigh Bells will perform as the musical guest. Rudolph has shown up for frequent cameos on SNL since exiting as a full-time cast member in 2007, and while we always enjoy seeing her, isn't it way past time for the show to hire another black comedienne?