M.I.A.'s Tour Rider: European Cheese, Women Wearing Burkas
"High Speed internet — MUST HAVE."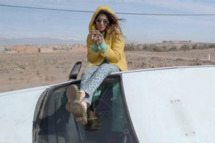 Hot on the heels of her Super Bowl antics, the Smoking Gun got its hands on M.I.A.'s 2011 tour rider, which, in true rock-star tradition, contains a list of very specific backstage demands that make Maya look a little fussy. Among the requests? "One Cheese (European) and Cracker Tray," "1 container organic Dried Blueberries," "1 bottle of Absinthe," and "High Speed internet — MUST HAVE." There is also this line, with regards to M.I.A.'s stage extras: "Must have stage presence, and groove to the music. Will be onstage for the full duration of the show, wearing full covered Burkas." (Why not bring the women from the "Bad Girls" video? They were great!) Meanwhile, the Sun has a totally unverified write-up of Kanye's rider from his recent Australia gig, which included the stipulation "that any drivers ferrying him are clad in 100 per cent cotton: No man-made fibres." Important follow-up: Does Kanye have the ability to I.D. a "man-made fibre" on sight? Because that's kind of awesome.