Michael Fassbender May Star in Ridley Scott's Cormac McCarthy Film
Confluence of awesomeness, dead ahead.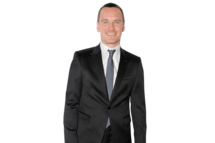 Good news: Ridley Scott is no longer rumored to direct Cormac McCarthy's first-ever spec script The Counselor; he's confirmed, and it's his next project. Better/equally high quality news: Michael Fassbender could be onboard. The star of Scott's upcoming Prometheus, Fassbender is, famously, not a septuagenarian like the rest of the film's key players. But we'll overlook it with an eye toward the likely excellent final product.