The Muppets Booked As Oscar Presenters
At least they'll be included somehow.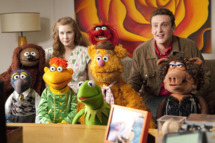 The Best Original Song performances can be hit or miss at the Oscars, but with only two nominees in that category this year — an upbeat number from Rio and a song from The Muppets — it seemed like these segments would prove to be high points of the telecast without taking up too much of its time. Then producer Brian Grazer cruelly decided to cut the Best Original Song performances, and a whole nation of Muppet nostalgists cried out in pain. Today, though, Grazer announced an intention to meet them halfway: Kermit and Miss Piggy will appear at the ceremony, but as presenters. (For Best Picture? Shoot for the moon!) Well, this makes the Cirque du Soleil thing go down a little bit easier ...