NBC Can Exhale: Smash Didn't Bomb
It did fine, while <em>The Voice</em> was huge.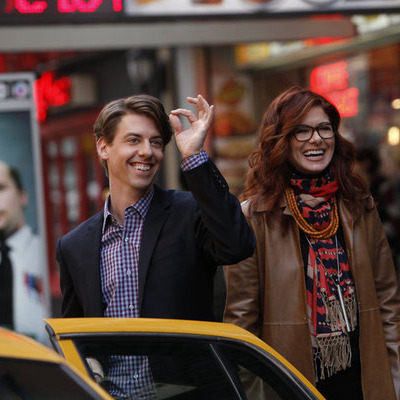 It's (finally) a good day at NBC: The network's three-month effort to relaunch The Voice and get folks to watch Smash paid off with strong Nielsen returns. The headline on Smash is that it did ... pretty well! Per Nielsen, 11.5 million folks watched the premiere episode on TV last night; it averaged a 3.8 rating with viewers under 50 and easily won the 10 p.m. hour. Before we break down what those numbers mean, though, we should first tell you about the best bit of news for the Peacock from last night's ratings: The Voice was a monster on Monday. Its first showing in its normal 8 to 10 p.m. time slot averaged 17.7 million viewers and a 6.6 rating with adults 18 to 49. That was good enough to knock CBS's top-rated comedy block into second place, trouncing even Two and a Half Men. It also marked NBC's best Nielsen performance with folks under 50 on any night with regularly scheduled programming since the 2007 season premiere of Heroes. What's more, The Voice built momentum through the night: In its final half-hour hour, the show jumped up to 19.4 million viewers and a 7.7 rating with folks under 50. Not only is this well above The Voice's 2011 averages, it's also much bigger than Fox's The X Factor and on a par with what American Idol has been doing this season. If The Voice can hold this note — and that is a big if, particularly since competition reality shows tend to start big then drop — it has a real shot of competing with Idol for the status of TV's No. 1 reality show.
So, back to Smash. Last week, we reported that industry insiders were predicting a "big" opening for the show but expected ratings to tail off in coming weeks. So was last night "big"? Yes, but just barely. The good news for NBC is that Smash did better than any episode of any 10 p.m. drama on any network this season, period. And the only other new dramas to open bigger this season have been ABC's Once Upon a Time and Fox's preview of Touch. However, Smash also had the advantage of its giant lead-in, and as much as NBC execs had hoped to create a seamless block of aspirational TV — even forcing Carson Daly to end The Voice with a plea to stay tuned for more "dreams" — it's clear Smash will have to stand on its own. It lost about 40 percent of its Voice lead-in, and also dropped markedly from its first half-hour to its second. This isn't completely unexpected: Happy Endings is considered a success for ABC, but it regularly loses 30 percent or more of its Modern Family lead-in. It's also unclear just how many people caught the Smash pilot online, via on demand or on airplanes; theoretically, at least, tune-in could've been hurt a bit by folks having had the chance to watch the show before it debuted on NBC. Still, given the extensive marketing campaign and generally favorable reviews, Peacock brass could be forgiven for having hoped Smash would soar even higher in its first outing. Instead, they can be happy that it opened solidly in an extradordinarily competitive TV marketplace, even as they light candles and begin praying that its ratings hold up in the weeks ahead.