Nicki Minaj to Perform New 'Roman' Song at Grammys, Then Release Another Single
"Roman Holiday" and another one, "Starships," comin' atcha.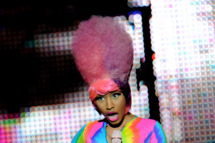 If you spazzed over Nicki Minaj's fifteen seconds of rap-heavy feature action during Madonna's Super Bowl halftime show, take a deep breath: She'll perform a new song, "Roman Holiday," at this Sunday's Grammys, immediately put it on iTunes afterward, then debut her next single, "Starships," the following morning on Ryan Seacrest's radio show. Are we wrong to guess that, considering it's the Grammys, this one might be something in the "Moment 4 Life" mold rather than the ultra-aggressive, cuss-laden vibe of "Roman's Revenge" and newish track "Roman in Moscow"?