Parks and Rec's Taboo Romance: Ron and Leslie
"We will never do that," Mike Schur promises.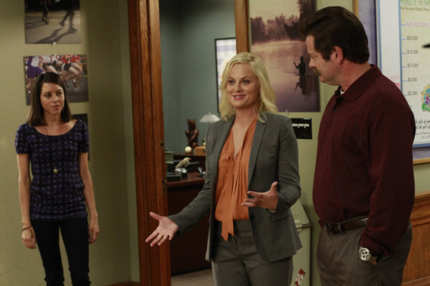 Last week's Parks and Rec featured some disturbing developments in the romance department: Ann and Tom? Good grief. (Time to get a flashing neon sign that says, "We're not entirely sure what to do with Ann's character!") Luckily, executive producer Mike Schur has a few words of comfort. "We have a lot of soul-matey relationships ... and we just wanted to do a comedy relationship," Schur tells E!. And just because the show's in surprising territory with that pairing doesn't mean it's lost sight of what's okay. "The one thing we've never contemplated at any level is Leslie and Ron," he says. "They will never date. We will never do that."