Showtime Renews Californication, House of Lies, and Shameless
<em>Shameless</em> is the network's second most popular show.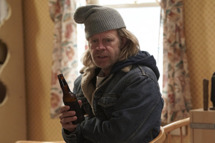 Showtime has renewed House of Lies, Shameless, and Californication, the network announced today, for second, third, and sixth seasons, respectively. All three shows have been doing well, with even Californication improving its numbers over last season. House of Lies has done decently for a freshman series, but it's Shameless that's really taken off this year: It's up about 30 percent over last season, and it beat Luck's premiere last week by a solid margin. It out-performs Homeland numbers-wise if not buzz-wise, making it second only to Dexter for Showtime. The power of William H. Macy strikes again!