Sundance's Love Lust Returns Tonight With 'Bad Girls'
And this time, with Vulture input!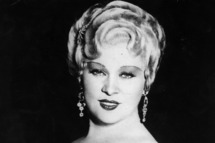 Sundance's Love Lust series of specials returns tonight at 8 p.m. with a pop-culture dive into "Bad Girls" — Joan of Arc, Princess Diana, Eva Peron, and Mae West among them — and Vulture weighs in with some thoughts. For those who haven't seen the series, Love Lust takes a topic — Heels, Sex Symbols, Little Black Dress — and traces its pop evolution through history. This lesson is aided by cheeky but informed talking-head experts, and tonight's experts include Vulture's own Amanda Dobbins. It's sort of the Sundance Channel's artsy/fashion answer to I Love the '80s, so check it out.