Thrift Wars Reality Show in the Works
About competitive thrift shopping.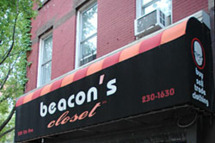 It's bad enough that style bloggers have turned "thrift" into a verb. Now Oxygen is turning it into a reality show. Thrift Wars "provides an outrageous and entertaining look at New York's leading and most hardcore thrifters ... as they scour the city for the hottest vintage clothing and accessories — and try to make a profit," the network says in a release. Ah yes, the people who take all the good stuff from Goodwill and resell it at Buffalo Exchange. Well, at least we now have another "war" show to add to the chart.