Tina Fey in Talks for Fancy Nancy Movie
To produce, not star in.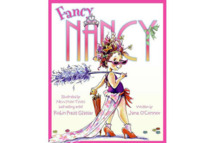 Tina Fey is in talks to produce a live-action Fancy Nancy movie, EW reports. Shawn Levy (Night at the Museum) has already signed on as a producer. The megapopular Fancy Nancy universe includes over 30 books, all about a plucky little girl who craves the finer things in life and insists her family go along with her charming whims. Luckily, her interests are not strictly limited to posh living: Nancy also celebrates Earth Day, gets glasses, looses a tooth, writes poetry, and develops an interest in astronomy, among other pursuits. Obligatory obscure 30 Rock overlap: In the season one episode "The Baby Show," Liz sort of steals a baby, whom she renames Nancy for no reason. Fancy!