Horrible Bosses Writers Nab Vacation Franchise
This means <em>Freaks and Geeks</em>' Sam Weir is in charge.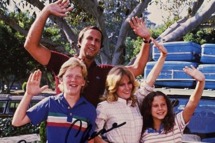 Horrible Bosses screenwriters John Francis Daley and Jonathan Goldstein have landed the directing gig for the return to the Vacation series that began with Chevy Chase's National Lampoon's Vacation in 1983. Please note that you may know John Francis Daley by the name Sam Weir: Daley, who is currently on Fox's Bones, was one of the stars of Freaks and Geeks before that show summarily ended and he grew an additional two feet. The reboot or reawakening or what have you will feature Rusty Griswold, the son of Chase's character, taking his own family on a no doubt high jinks-laden excursion. We'd heard a minute ago Ed Helms was in consideration to lead this return to the franchise. Still true? 'Cause we're still into it.