Valley Girl Musical Moving Ahead
New-wave musical numbers for everyone.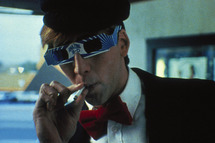 A Valley Girl musical, based on the 1983 Nicolas Cage film, has been in the works since 2009 but is now on the potential-for-disaster "fast track," Deadline reports, with newcomer Clay Weiner directing. This is only Weiner's second feature credit after the emetic Fred: The Movie, but apparently he landed the gig after self-financing a three-minute featurette demo. This version of Valley Girl will include a bunch of new-wave songs reinterpreted as big production numbers, which sounds like a here-be-dragons plan if ever there were one, but maybe it will, in the parlance of the film, be bitchin'.