What Got Dustin Hoffman Blacklisted From Hollywood?
The actor confided in Gary Oldman that he couldn't work for years after <em>Tootsie</em>.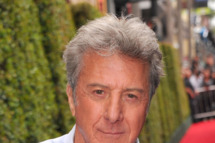 Deep into a GQ profile of Gary Oldman, the actor recounts an unusual phone call he got years ago from Dustin Hoffman after Hoffman heard a powerful executive describing Oldman as a right-wing fascist. "'Just be careful, because I said some stuff years ago,'" Oldman recalls Hoffman telling him. "'I said it to someone who was very powerful who made sure that I didn't work for a long, long time.' He was being quite cryptic. And then he reminded me that there was a gap -- I think it was a gap between Tootsie and the next thing he did." Indeed, Hoffman was missing from the big screen for five years after making Tootsie, but did that have to do with an unwise political remark he had made (unlike Oldman, Hoffman is a noted Democrat) or the fact that Hoffman was famously difficult on-set? In any case, the advice set Oldman on edge. "It made me quite scared. It unnerved me," he said. "It really did unnerve me." Mysterious!