Who Won the Movie Rights to 50 Shades of Grey?
The erotic book trilogy has found a studio home.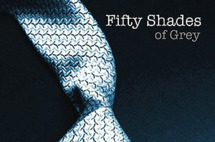 Whither big-screen sex and nudity? You can find plenty of it on premium cable TV shows like True Blood and Shameless, but there's been an MPAA-encouraged deep freeze on sex since the nineties heyday of the erotic thriller, save for the occasional ass-flash in R-rated comedies like Friends With Benefits and No Strings Attached. With that in mind, then, the fact that Universal and Focus Features won the movie rights today to the erotic E.L. James novel 50 Shades of Grey — and that several studios were in the mix for what could become a trilogy — feels potentially game-changing: Could the next Twilight or Hunger Games really be an R-rated franchise full of S&M sex? In any case, get to fantasy-casting: Who should play the movie's main object of desire, the forbiddingly handsome, copper-haired, emotionally dominant Christian Grey? Obviously Jason Segel, right?