Ashton Kutcher to Be the First Celebrity in Space
Unless Bey and Jay really do get there first.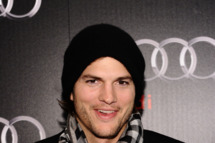 A few weeks back, a British tabloid published a totally unsubstantiated but hilarious rumor about how Virgin Galactic executives were trying to convince Beyoncé and Jay-Z to film "the first music video in space" on one of their ships. Obviously, if this actually happens, Vulture will apologize and gladly hand the First Celebrities in Space crown back over to the First Couple of Earth. But for now, it looks like that illustrious title will instead go to Ashton Kutcher, who has just been announced as the company's 500th "astronaut." Virgin Galactic's spaceships have not actually made it into space yet, but the flight program is supposed to launch sometime next year; tickets cost $200,000 each. So if you have ever dreamed of eating space ice cream with the guy from Punk'd, start saving your allowance now. Vulture will be holding out for the Bey-Jay mission.