Ask the Happy Endings Showrunner Anything!
We're open to suggestion.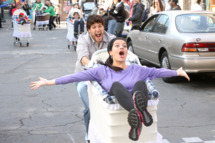 After next week's season finale, ABC's Happy Endings will be going all GhosProts on us until September. Bummer, yes, but here's a tiny sliver of good news: Vulture will be talking to series creator David Caspe in just a few hours, and we would be happy to ask him a few questions on your behalf. Tell us what you'd like to know in the comments below. And no, we will not ask him if the Trove (TM) is a real thing.