Finalists Revealed for the Greatest TV Drama Readers Poll: Vote for Breaking Bad vs. Buffy
The winners of the main Drama Derby&nbsp;&mdash; <em>The Wire</em> versus <em>The Sopranos</em> &mdash; will be announced on Monday.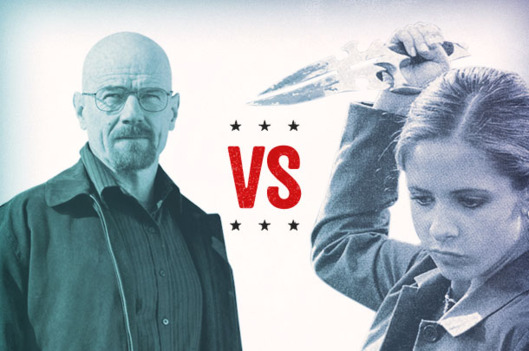 Tony vs. Omar. Big Pussy vs. Stringer Bell. After three weeks of careful consideration, deliberation and elimination from our panel of all-star judges, Vulture's Drama Derby to determine the greatest TV drama of the past 25 years is drawing to a close with a final face-off between last-shows-standing The Wire and The Sopranos. Our last judge, New York Magazine's own TV critic Matt Zoller Seitz, will be taking the weekend to make his deliberations and his final judgment will be posted on Monday at noon. (Yes, we originally scheduled the decision for today, but a decision of this gravity, one this potentially riot-inducing, needs 72 hours of deep contemplation. But feel free to try to sway his opinion in the comments below.) But while he is home pacing, replaying DVD after DVD, and arranging for security, it is time for you to make a decision of your own in our readers poll.
While our judges have been narrowing the field over here on Vulture, our fans have been voting in a parallel bracket on our Facebook page, and it has led to a very different outcome. The Sopranos and The Wire have already been vanquished: The final readers showdown has come down to Breaking Bad and Buffy the Vampire Slayer — two shows that couldn't be more different, but inspire similar levels of fan devotion. Now it is time for you to go to our Facebook page to weigh in on the great White vs. Summers debate, and settle the old meth-versus-stakes debate once and for all. The winner will be announced on Monday as well.