Bobby Brown Arrested for Drunk Driving
How quickly a cell-phone violation can turn into a stay in jail for OUI.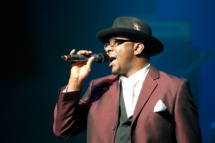 Bobby Brown was pulled over in California on Monday for driving while talking on his phone, then subsequently arrested after showing "objective symptoms of intoxication," according to a police report obtained by The Hollywood Reporter. Since officers of the law so rarely double as Us Weekly reporters, there was no follow-up about how Brown was coping with the loss of Whitney Houston, and if that contributed to the regrettable events. Vulture will decline to speculate.