Cat in the Hat Will Get Another Movie
Animated, this time.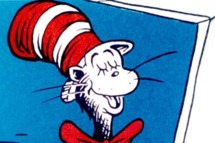 In less than two weeks, The Lorax has already become this year's highest-grossing movie, so it's no surprise that Universal wants to return to the world of Dr. Seuss. This time, though, they'll be animating one of the Seuss tales they couldn't get right in live action: The Cat in the Hat. Deadline reports that Uni, Seuss widow Audrey Geisel, and Illumination Pictures will reteam for a 3-D, CG-animated take on the classic tale that will hopefully wipe the slate clean after the 2003 version of Cat in the Hat, which put Mike Myers into a very unnerving feline costume. If that pays off, will they dare to attempt a new animated version of How the Grinch Stole Christmas, even though the 1966 TV special is a holiday perennial?