Community Animated Short to Air One Week Before New Season Starts Up
Called <em>Abed's Master Key</em>.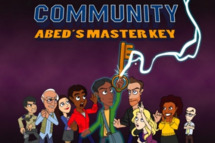 For all of us who for the first time in our lives are desperate for winter break to be over so we can get back to school — Greendale Community College, in this case — here's a much-needed reprieve. Starting this Wednesday, an animated short, Abed's Master Key, will be aired online at NBC.com and on Hulu in three parts. As the title suggests, Abed finds the master key to Greendale, which we are confident the gang will use to elevate their dysfunction and mischief to new heights. After that, just a week until the regular season of Community returns on March 15, which just can't get here fast enough.