Corbin Bleu Is Broadway's New Jesus
Dear Zac Efron: Ya burnt.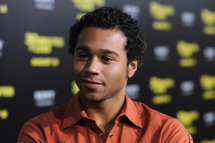 Corbin Bleu, age 23 (those Disney kids! they grow up so fast!), will assume the lead of Broadway's Godspell revival, meaning you so just lost your bet on Zac Efron being the first High School Musical alum to play Jesus. It's not Bleu's inaugural trip to Broadway, having starred in In the Heights in 2010. He'll hit the stage April 17, so be sure to pencil it in for that special member of the fam who still watches the three High School Musical installments on the regular.