Does This Mad Men Ad Campaign Offend You?
People are upset that it appears to evoke 9/11.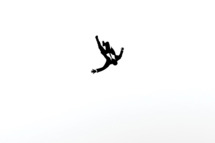 Taken on its own, the image of a silhouetted, suited man tumbling through the air could mean a lot of things. If you recognize the image from the opening credits of Mad Men, you'll realize that the stark posters — which only feature the man and an airdate — are advertising the upcoming season of the show. But if you're not familiar with Mad Men, and you see that key art provocatively scrolling down a skyscraper, you may have an altogether different reaction. "It definitely evokes the memory of 9/11," a relative of one of the September 11 victims told the Times, "and doesn't seem to have any connection with the message it is promoting." AMC insists, "The image used in the campaign is intended to serve as a metaphor for what is happening in Don Draper's fictional life and in no way references actual events," but is it hard to believe that no one at the network saw the parallel? And do you find the ad campaign to be in poor taste?