Don't Worry, Madonna and Deadmau5 Have Worked Out Their Issues
She was not talking about that Molly.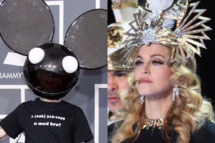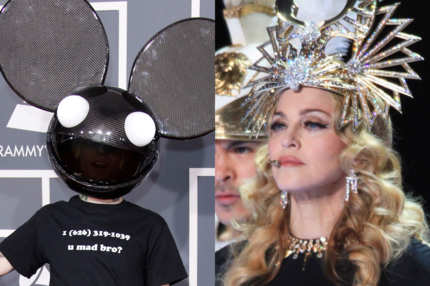 Yesterday, for a few dark hours, it seemed that the world's most famous pop star and the music guy in the mouse head were at war. The cause? Some seemingly drug-ish comments that Madonna made during a surprise appearance at Miami's Ultra Music Festival. ("I have a question for you, how many of you in this crowd have seen Molly?" was the offending line.) This was apparently the last straw for Deadmau5, who posted long rants on Tumblr and Facebook calling her a "fucking IDIOT. fuck" and slamming her for irresponsible glamorization of drug use. Then he showed up on Twitter, where Madonna was holding a one-day-only Q&A, to discuss the issue further. Madonna (in her own mouse ears) claimed she was not using Molly as a slang term for ecstasy, but was instead "referring to the song called 'Have You Seen Molly,' written by my friend Cedric Gervais." Given the title of her most recent album, and also her general Madonna-ness, you might find that explanation a little implausible, but it was enough for Deadmau5, who responded, "fair enough, i was just voicing my concerns as i usually do." Peace reigns in the electronic mouse kingdom.