Eva Longoria to Produce Marc Cherry's Devious Maids
No word on whether she'll appear onscreen. But, come on. She'll appear onscreen.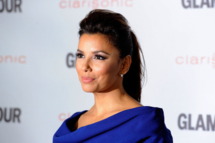 Devious Maids — that title doesn't get less grating, does it? Anyway. Eva Longoria is now onboard as an executive producer for Marc Cherry's new ABC project, which — well, might as well let Deadline be the one who calls a spade a spade: " ... which, like Desperate Housewives, is a soap with four female leads." Seeing as the quartet of mischievous housekeepers (sneaky au pairs, subterfuge-prone cleaning ladies, calculating chambermaids — we could do this all day) have all been cast, the notion that Longoria will not appear onscreen has some credibility. But she probably will. Desperate Housewives called it a day and Longoria's 2012 looks pretty laid-back; she's acting in this thing. C'mon. Cherry will even carry her around set.