Animator Behind Ariel and Aladdin Leaving Disney
Fans dub it the "end of an era."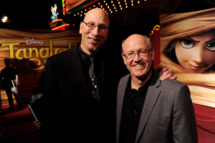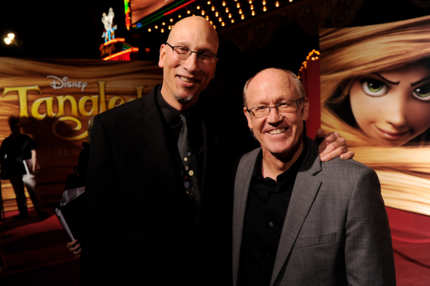 Yesterday was Glen Keane's last day at Disney Feature Animation, where he'd worked on and off since 1974, creating a pantheon of cartoon princes and princesses, heroes and heroines, for an entire generation to grow up with. According to the Hollywood Reporter, Keane (in the photo, the man on the right) was responsible for, among other greats, Ariel in The Little Mermaid, the Beast in Beauty and the Beast, Aladdin in, well, Aladdin, and most recently Rapunzel in Tangled. "I am convinced that animation really is the ultimate form of our time with endless new territories to explore," he wrote in a letter to his colleagues, adding, "I can't resist its siren call to step out and discover them." While his next move remains unknown, maybe he should consider a jump next door to Pixar, now that the John Carter debacle has threatened Andrew Stanton's tenure there as Animator Supreme. But for many longtime and grieving fans on the site Cartoon Brew, this news nevertheless marked "the end of an era."