The Artist Producer Harvey Weinstein Awarded France's Legion d'Honneur
Less than a week after the film took home five Oscars.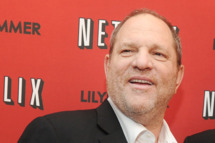 Less than a week after The Artist swept the Oscars, legendary producer Harvey Weinstein — who bought the silent, black-and-white French production back in 2011 — was awarded France's highest distinction, the Legion d'Honneur. After hearing the news, Weinstein remarked that, "I am still the young boy who walked two miles to The Mayfair movie theater in Flushing to see films by the greats: Lelouch, Godard, Renoir and my personal favorite Francois Truffaut." He is now in the company of such Hollywood luminaries and fellow Legion d'Honneur recipients as Steven Spielberg, Clint Eastwood, and only the world's best-known silent film star, Charlie Chaplin. Formidable, Harvey!