Hip-Hop Hollywood Squares Is Real, Will Feature Ghostface Killah, Biz Markie, Fat Joe, and More
Nick Cannon! DJ Khaled! The list goes on.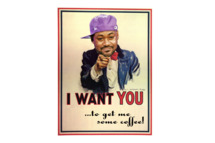 Great news for the tic-tac-toe enthusiasts of America: Your favorite (only?) celebrity-in-a-box game show will be making another triumphant return to television. Yes, MTV2 is rebooting Hollywood Squares, but this time with a twist — rappers! And the semi-famous stars who love them! Hip Hop Squares, as it will be known, will feature Ghostface Killah, Biz Markie, Fat Joe, Mac Miller, MGK, along with DJ Khaled (who gathers rappers together), Nick Cannon (who sometimes watches people rap on America's Got Talent), Kat Graham (who mock raps), and Bam Margera (who was on Jackass — sure). Right now we are imagining an army of Ghostface interns firing trivia questions at him in some sort of Squares Boot Camp situation, and we are really enjoying the image. Please bring the interns into your square, Ghostface. Let's really make this a scene.