How Seth Meyers Helped Cast the New Game of Thrones Season
And who he'd like to play on the show.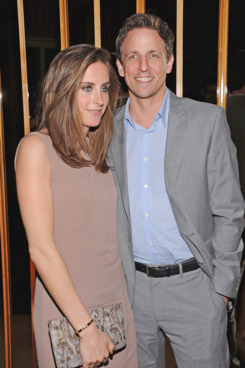 Saturday Night Live's Seth Meyers is an on-the-record Game of Thrones superfan, but even with the new season of its TV adaptation fast approaching, Meyers is still anxiously jonesing for the next installment of George R.R. Martin's book series. "I'm mostly waiting for George R.R. to get his act together because I read the first four books in one summer and then I had to wait for Dance with Dragons, and I don't want to be a sucker waiting four years for another book," he told us last night at the Top of the Standard for the premiere party of The Hunger Games. Still, don't get Meyers wrong: He's still super psyched for HBO to start airing new episodes of Thrones. In fact, "I used to live in Amsterdam, and a Dutch actress who I'm very good friends with [is on the show]," said Meyers. Would that be Thrones newcomer Carice van Houten? "Yeah! She's [playing] Melisandre, which is really exciting. I don't want to take full credit for it, but she knew I was a nerd about those books, and when she got offered the part, she sent me a text asking if she should do it, and I said yes. So I'm kind of on the hook for it." And who would Meyers play if he could be on the show? "Let's be honest — we all want to be Jon Snow, but we're all not. I'm probably like one of the guys who came up with Jon Snow but wasn't one of the main dudes." At that point, his date Alexi Ashe interrupted with her own suggestion. "My girlfriend says I'm Robb Stark," laughed Meyers. "I like cold, wet, and gray, so I would make a very good King of the North."