Jane Fonda to Play Nancy Reagan
In the next Lee Daniels movie.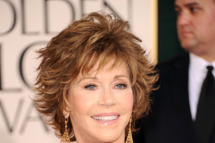 Hey, Republicans! Would you like a brief respite from the dispiriting presidential primary? Here is some glistening red meat for your 24-hour news cycle: Jane Fonda is going to be playing Nancy Reagan in a new movie. Oh yes. According to Variety, the reviled-by-conservatives actress/activist has joined the cast of The Butler, the new Lee Daniels drama about a White House servant (Forest Whitaker) whose career lasted from the Truman Administration to Ronald Reagan's. Daniels is also looking to Liam Neeson to play Lyndon Johnson and John Cusack to play Richard Nixon (Mila Kunis has been mentioned for Jackie Kennedy as well), but oh man, Jane Fonda! As Nancy Reagan! Ready your popcorn-eating animated gifs.