Jenny Slate Joins CBS Sitcom From Bridesmaids' Rebel Wilson
As one of Rebel Wilson's dorky BFFs.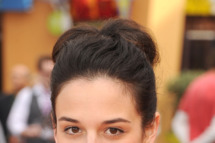 Jenny Slate will co-star in Rebel Wilson's CBS sitcom Super Fun Night as part of a trio of BFFs. Wilson, who played Kristin Wiig's roommate in Bridesmaids ("I thought it was a very sad handwritten book"), created and will star in the show that's about three oddball girlfriends who decide they need to have super fun Friday nights. According to Deadline, Slate will play Helen-Alice, the smart, brainy one. We were already pretty excited for the show, but now that there's even a slim chance of a Marcel the Shell appearance, we're all the more jazzed.