Jerry Lee Lewis Is Determined to Keep It in the Family
He just married his cousin's ex-wife.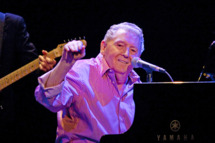 For Jerry Lee Lewis's new (and seventh) marriage, he's reprising one of his greatest hits. CNN reports that the 76-year-old "Great Balls of Fire" singer wed Judith Brown this month, whom he had met through his cousin Rusty ... Judith's former husband. If that sounds like a familiar sort of scandal for Lewis, it should: He infamously married his 13-year-old cousin Myra Gale back when he was 23, and yes, Myra was Rusty's sister. Boy, Jerry Lee has really got it out for that guy, huh?