Jessica Biel Joins Hitchcock Film
She'll be playing Vera Miles.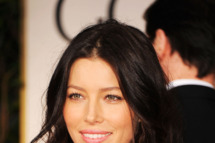 For those of you keeping track at home: In the next year, we're going to get two behind-the-scenes movies about Alfred Hitchcock and his leading ladies. First, there's The Girl, which stars Toby Jones as Hitchcock and Sienna Miller as Tippi Hedren; that one is circa The Birds. Meanwhile, the even starrier Alfred Hitchcock and the Making of Psycho is filling up, adding Jessica Biel as Vera Miles. Deadline reported the news and said Biel beat out several actresses for the hotly pursued role, which ... everyone wanted to play Vera Miles, really? Then again, it's a great cast so far, with Anthony Hopkins as Hitchcock, Helen Mirren as his wife Alma, and Scarlett Johansson prepping for one last shower as Janet Leigh.