Leah Remini Joins ABC Comedy White Van Man
She'll play the lead's sister.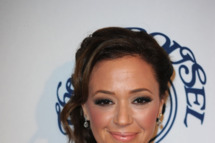 King of Queens star Leah Remini has been cast in ABC's comedy pilot White Van Man. The show is an adaptation of a British series (hey, sounds familiar) and centers around a man called Jack (Kyle Bornheimer) "who is forced to put his dreams on hold in order to take over the family handyman business from his father." Remini will play Jack's "happy massage therapist sister." Helluva description.