Lost's Yunjin Kim Cast in ABC's Mistresses
<em>Lost</em> and found.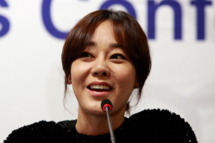 Life after Lost has been good for its cast. The beautiful Yunjin Kim, who played Sun on ABC's time-traveling drama, has been cast in the ABC series Mistresses set to debut in summer 2013. The British soap opera adaptation will follow four scandalous women make morally questionable decisions in their love lives. Variety notes that Kim joins three other Lost alums to join another ABC show: Terry O'Quinn on 666 Park Avenue, Emilie De Ravin on Americana and Alan Dale on Beauty and the Beast. Meanwhile Daniel Dae Kim's Hawaii Five-0 has been renewed by CBS for a third season and Evangeline Lilly scored a role in the upcoming Hobbit series. Best of all, Jorge Garcia managed to get cast as his Lost character, Hurley, on Fox's Alcatraz.