New CBS Reality Show: Take This Job and Love It
Mark Burnett and Michael Davies want to give you your dream gig.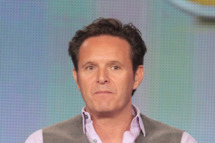 Before it devolved into campy catfights with C-level celebrities, The Apprentice was a show all about talented go-getters showing off their business acumen. Now, Apprentice creator Mark Burnett is teaming up with executive producers Michael Davies (The Glee Project) and James Sunderland (America's Got Talent) for a potential unscripted series that looks to tap into the same dream employment vibe. Vulture hears that CBS has ordered a pilot for what's tentatively being called The Job, with Lisa Ling set to host. The idea behind the show: Five qualified folks, chosen from an applicant pool of thousands, compete for a chance to win a gig at a well-known company. Each week will feature a different batch of contestants and, we assume, a new company (shades of Undercover Boss, sans the undercover part). Davies is producing via his Sony-based Embassy Row production company. And for all you title geeks out there: No, we don't believe there'll be any connection to Denis Leary's short-lived ABC comedy The Job. Though that would be kinda cool.