Nicki Minaj's Roman Reloaded Guests: Rick Ross, Chris Brown, Young Jeezy, Nas ...
Plus Drake and Wayne, of course.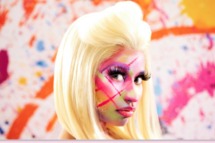 Your expectations for Roman Reloaded may vary, depending on your opinions of Nicki, "Super Bass," or the Vatican, but you can now safely bank on the fact that a lot of very famous rappers will be featured at one point or another. According to the track list, old friends Drake and Lil Wayne will be making guest appearances, along with Rick Ross, Cam'Ron, 2 Chainz, Nas, Young Jeezy, and Chris Brown. Also, the album is nineteen tracks long. (That is so many songs, but it is also several more chances for a hit.) And yes, it does include the exorcism ditty she performed at the Grammys. Sorry, Vatican!