It's Not the Right Time for the 24 Movie
Looks like it won't shoot this year, if at all.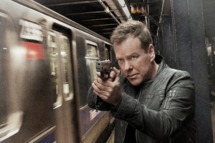 24's latest cliffhanger is seriously going down to the wire. According to Deadline, the script for the 24 movie is finally ready to shoot, but 20th Century Fox isn't convinced that the budget can be brought down or that Kiefer Sutherland will have enough time off during his Touch hiatus, and now it looks like the film may be pushed to next year ... if it happens at all. (Not helping matters: There still isn't a director formally attached, though the studio had been talking to Antoine Fuqua for the gig.) Still, Jack Bauer's gotten out of tighter jams than this, right? If only he could find the mole at Fox who'll stop at nothing to deter him!