R. Kelly, Eddie Murphy, and Will Smith's Ex-Wives to Star in Reality Show Hollywood Exes
An ex-wife all-star team has convened.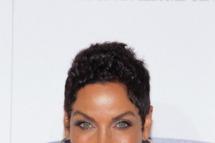 Because the return of R. Kelly's musical odyssey Trapped in the Closet wasn't enough R. Kelly news for one day, the Los Angeles Times is reporting that Kelly's ex-wife, along with the ex-wives of Eddie Murphy (Nicole Murphy is pictured at left), Will Smith, Prince, and Jose Canseco, will star in a VH1 reality series premiering this summer titled Hollywood Exes. Indeed all of the women have names, too, which is the point of the show, according to the Times: "These women have been friends for years, and now they're partnering onscreen in an effort to build up their own celebrity beyond that of their ex-spouses." Because nothing says "I'm a person, too" like four-plus people saying it at the same time.