Report: Harvey Weinstein Plans PG-13 Bully Edit
Act like you didn't see this coming.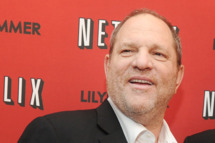 Try to act surprised: After milking his ratings battle with the MPAA for everything it was worth, the LA Times is reporting that Harvey Weinstein has readied a PG-13 theatrical cut of his new documentary, Bully. Weinstein has spent the last several weeks blasting the MPAA for slapping Bully with an R-rating over several f-bombs, a high-profile crusade that may have diminished the point of the documentary but at least provided a hook for enlisting celebrities to fight on behalf of his film. The re-rated cut will hit theaters on April 13 (the current version, which is going out unrated, debuted in Los Angeles and New York today) and recalls Weinstein's attempt to goose the grosses of The King's Speech last year by replacing the R-rated Best Picture winner with a PG-13 cut. That revision failed to crack the top ten at the box office and earned Weinstein the enmity of his Oscar-winning director, Tom Hooper, and star, Colin Firth.