Music Sales Up for the First Time Since 2004
CD sales still made over $3 billion.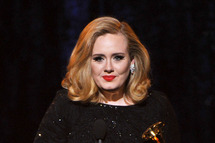 The RIAA announced verrrry slight gains for music sales for 2011, the first time such numbers have gone up since 2004. "You're welcome," says Adele, probably, somewhere. Before you feel too bad for the record industry, remember that it still brought in $7.01 billion last year. CD sales accounted for $3.1 billion of that (down from $3.9 billion last year), with digital albums bringing in $1.1 billion (up from $880 million last year) and digital tracks raking in $1.5 billion (up from $1.2 billion). Adorably, LPs and EPs made $119 million last year — a 34 percent gain! — which means High Fidelity's almost invisible long-con mind-control plan has worked.