See Renderings of How the Frieze Art Fair Will Take Over Randall's Island
Take a look at the temporary gallery.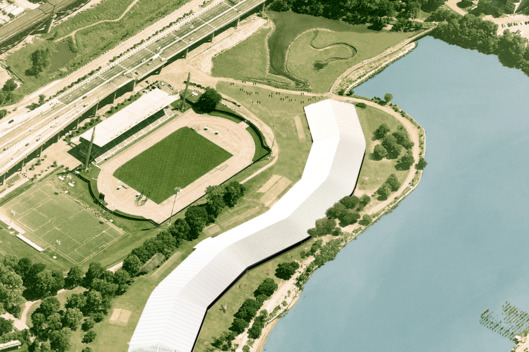 For most New Yorkers, Randall's Island is the urban equivalent of a flyover state: a rarely taken exit from the Grand Central Parkway and the home of plentiful athletic fields. But for a few days in May, the city's forgotten isle will be the center of the international art world, when the Frieze Art Fair decamps from London and moves into a 225,000-foot* temporary gallery designed by the Brooklyn-based firm SO-IL. To make the experience a little less like hiking through an art-filled tunnel, the firm's husband-and-wife founders Florian Idenburg and Jing Liu bent the megatent into six sections, hinged by glass-walled wedges. Visitors can arrive by ferry to the south or by car, bus, or taxi to the north, enter at either end, and follow a course that snakes along the East River. The tent will be filled with pale, diffuse light that filters through the vinyl roof, and the junctures provide places to sit and escape to the outdoors, where one can patronize the food carts that will be stationed along the shore or break up an afternoon of staring at art with views of upper Manhattan.
* This post has been corrected to reflect the accurate square footage of the temporary gallery space.