Snooki Definitely Pregnant and Engaged
From Snooki's mouth.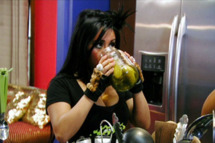 Rumors of Snooki's pregnancy have been flying around for months, but the Jersey Shore's most famous little meatball had yet to confirm the news herself. Well, it's confirmed now! Snooks is showing off her baby bump on the cover of this week's Us Weekly, under a headline that reads "OMG! I'm Pregnant." OMG indeed, Snooks! The rest of the cover reads, "A newly engaged Snooki opens up about her panic after drinking in the first month, how she nearly ruined Jionni's sweet proposal, and her doubtful future on the Shore." Well, since we are choosing to aggressively look on the bright side of this development — there is a baby involved, after all — at least she's worrying about drinking and thinking of quitting the Shore. She probably does need to clear out time in her schedule to film Snooki's Having a Baby, or whatever the inevitable reality show about her pregnancy will be called.