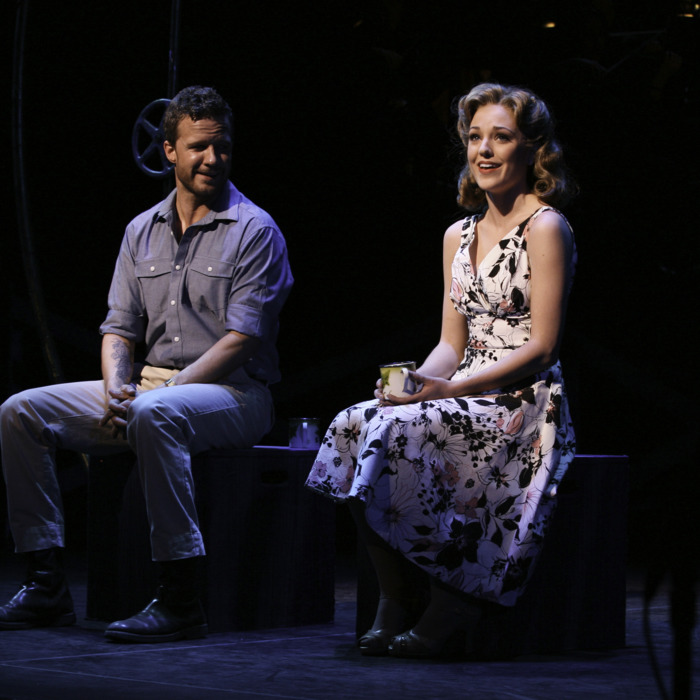 Will Chase and Laura Osnes in the Encores! production of Rodgers and Hammerstein's 'Pipe Dream.'
Photo: Ari Mintz
Regrets (from Manhattan Theatre Club at City Center's Stage I through April 29)
A postcard from the edge of Wikipedia, the young British playwright Matt Charman's Regrets is a tidy little wax museum of tropes and types from the American fifties. The mysterious young Caleb (Ansel Elgort) is waiting out the six weeks of Nevada residency required for a "Reno divorce" in a remote campground colonized by oddballs and castaways, most of them male: Secretive, war-wounded writer Ben (Brian Hutchison) is the leader, lovelorn Queens weakling Alvin (Richard Topol) is the nebbish, and Gerald (Lucas Caleb Rooney) is the resident racist, sexist meathead. Adriane Lenox drops in as the campground's black proprietor (and shadow-owner, in defiance of separate-but-unequal state law), and so does the anime-eyed Gilmore Girls vet Alexis Bledel as a would-be prostitute looking for any ticket out of town. I Love Lucy is discussed, "the war" and the N-word pepper all palaver, and right on schedule, the House Un-American Activities Committee comes acallin', and we half expect an A-bomb to go off in the background to complete the Ike-era picture. Charman is a skillful assimilator of information and he can certainly build a structured story in clever, to-the-point dialogue, but Regrets is the work of an avid tourist: half diorama and half melodrama, all in Cinerama. 
Pipe Dream (at City Center's main stage through April 1)
Rodgers and Hammerstein completists owe themselves a trip to the Encores! mostly harmless resuscitation of Pipe Dream, the pair's troubled 1955 venture. For everyone else, it's a toss-up. (For my money, hearing any R&H score fully fleshed — and sung by such pros as Smash's Will Chase, the lovely Laura Osnes, and the marvelously relaxed Tom Wopat — is worth the trip.) Adapted from John Steinbeck's beautifully shapeless layabout novels Cannery Row and Sweet Thursday, Pipe Dream is a disaster at the congenital level: The Type-A pluck of Rodgers's music and the fussy neatness of Hammerstein's wit are fundamentally at odds with Steinbeck's wry, Big Rock Candy Mountain portrait of Depression-era Monterey, a tide pool of bums and lost souls in permanent contented-enough limbo. Throw in the fact that the ostensible hero, the motivation-challenged marine biologist Doc (Chase), barely seems to make an appearance — and the way Hammerstein can't quite bring himself to spell out that our heroine, Suzy (Osnes), is a hapless prostitute — and it's easy to see why Pipe Dream shambles, and not fluidly, as it should, but stiltedly. No matter, though: Avowed lovers of musicals should see it, or more to the point hear it, for its oom-pah-pah bum numbers, the best of which center on Wopat's hobo king Mac, for its deployment of the spry and sensational Leslie Uggams (as Fauna, the local madam/den mother), and for the strange pleasure of listening to less-than-iconic R&H music. In this mutant starfish of a show, we can hear the swirling DNA of the pair's previous hits and songs yet to come. Sometimes, a broken score can invite us into "the process" in ways a perfect one can't.