Stanley Tucci May Join David Yates's Emma Watson Drama
Based on Emma Forrest's memoir <em>Your Voice in My Head</em>.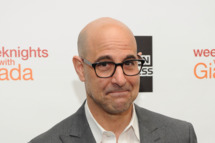 Stanley Tucci, currently scoring laughs as zealous TV personality Caesar Flickerman in The Hunger Games, is being eyed to co-star in Emma Watson's reunion with Harry Potter helmer David Yates. Your Voice in My Head, based on a 2011 memoir by Emma Forrest, will follow Watson as a young writer who, "after the demise of her relationship with a nationally respected journalist, attempts suicide before being saved by a terminally ill psychiatrist," Variety reports. Tucci would play the therapist, who, in a blurb for the book, is described as "slim, balding, and effortlessly optimistic." Perfect match for Tucci, and, after his winning Hunger Games repartee with J-Law, a perfect shot for him to banter onscreen with two major starlets from two massive series back-to-back.