Walking Dead Showrunner Hints Blood, Blood, Blood for Last Two Episodes
Includes spoiler from last week's episode.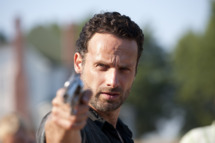 "There can be a lot of bloodshed in the next two episodes. We still have a lot of people standing and this is a very violent, surprising world. They have made a major mistake this season in that they felt they were safe on this farm. [Spoiler alert.] No one is safe; Dale's death proves that." —Glen Mazzara, showrunner for AMC's The Walking Dead, speaking with the Hollywood Reporter about the bombshell finale to last week's episode and what we can expect through the end of the season.